24 Jan 2022(MON)




Over 10 per cent of Hong Kong elderly persons show signs of depression, survey finds
2017-01-03
Back
---
The survey involved over 1,200 elderly persons in Hong Kong who were at least 60 years of age. Photo: May Tse
More than one in 10 elderly persons in Hong Kong display signs of depression or even early symptoms of suicidal behaviour, according to a recent survey by a non-governmental organisation.
Baptist Oi Kwan Social Service said negative emotional thoughts among the elderly, such as feeling useless or having no hope in the future, represented early warning signs of mental problems that could develop into suicidal behaviour.
The group urged the government to establish a nursing centre to detect and help elderly persons suffering from mental health problems. It also urged lowering the age threshold for the 'elderly health voucher' from 70 to 65.
Elderly service coordinator Maggie Siu Wing said it was important to pay attention to elderly persons' mental health given their rapidly rising numbers.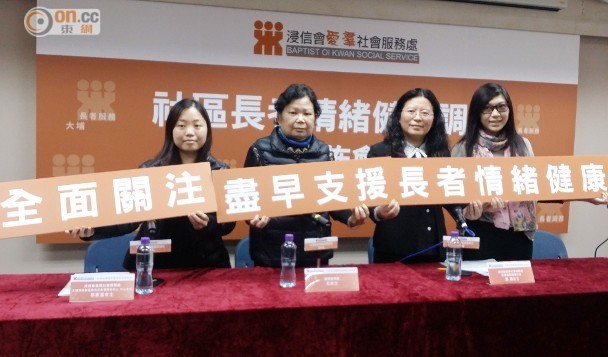 "It is also quite common for elderly to feel they are useless and redundant," Siu added. "This is the root of their having negative feelings and developing depression."
The survey polled 1,218 elderly individuals aged 60 or above who were receiving the group's services in five districts around town.
Their mental health conditions were measured according to the Geriatric Depression Scale, a 30-item self-reporting assessment used to identify depression in the elderly. A score higher than eight suggests depression.
In the survey, around 11 per cent scored an eight, suggesting that their mental state required professional assistance.
But a consultation at a public psychiatric clinic could entail a wait of as long as three years, Siu said.
The survey also found that elderly persons who joined group activities were in general less likely to suffer from depression than those who did not.
Most elderly persons cited financial pressure as one of their main sources of stress and depression, followed by their relationships with family, and relationships with neighbours.
They also expressed sentiments such as "feeling bored all day", "feeling useless", and "not feeling happy all the time". Some said they felt they had meaningless lives and worried that something bad would happen to them.
"Elderly who have these negative feelings are more reluctant to go outside their home and increase their feeling of loneliness." Siu said.
She stated that the public should encourage elderly persons to live a healthy life with a balanced diet, regular exercise, adequate sleep, and a proper social life.
Given the extremely long waiting time for elderly to receive mental health services at public clinics, Siu suggested the introduction of a nursing centre dedicated to them.
She also suggested that the government lower the age threshold from 70 to 65 for using an 'elderly health voucher', a government subsidy for consulting private doctors.